Enhance your internal communication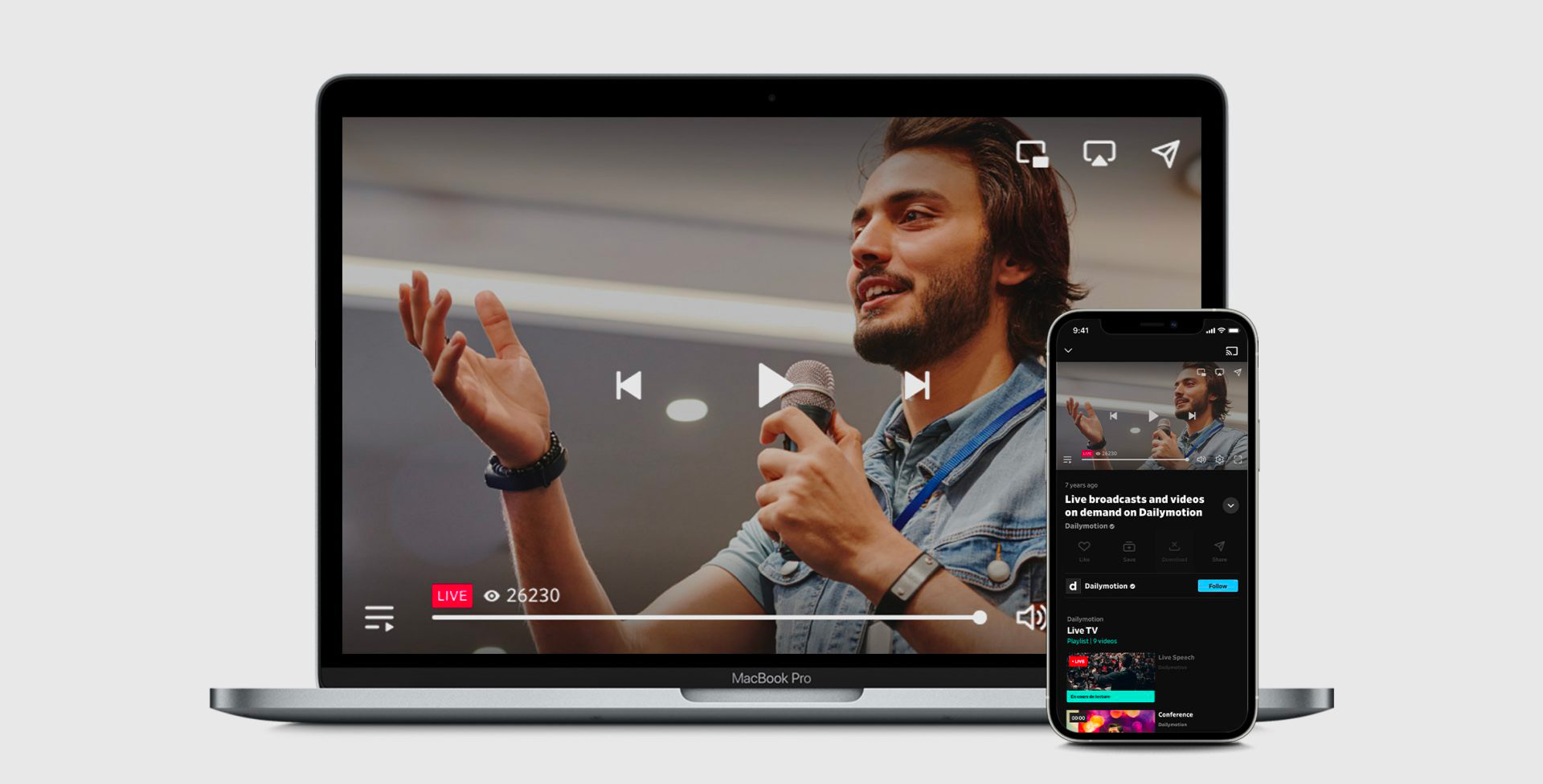 An expert in internal communications continuously strives to captivate employees and deliver concise, influential messages. The Dailymotion all-in-one video solution serves as a powerful partner to help you effectively connect with your target audience.
Our solution makes it simple to store and manage professional videos, including live events, e-learning, tutorials, presentations, and employee portraits. You can then seamlessly distribute them across internal platforms (such as intranet, VOD, and OTT) or external platforms (like social networks, websites, mobile apps, and email). Dailymotion's video technology ensures compatibility with all devices and delivers a professional viewing experience on any medium, including Android or Apple phones, desktops, tablets, and televisions. Furthermore, our technology prioritizes security to maintain the confidentiality of your internal communications.
69% of individuals prefer to obtain information from video over other forms of content (Wyzowl, Video Marketing Statistics, 2021) 
A unified brand experience
With our customizable Player, tailor the user interface and behavior of the Player to align with your brand identity. Incorporate your logo and company colors to create a cohesive communication ecosystem. Enjoy an ad-free experience, with full control over which videos are viewed and their order in the playlist. You can also decide to enable or disable comments based on your specific communication objectives.
Reliable live and replay streams
As a partner to over 90% of French media, we have cultivated the most robust, reliable, and secure live video technology in the market. Execute live broadcasts of your internal communication events with guidance from our experts and provide secure replays for your employees by establishing access conditions tailored to your requirements.
Track your internal audience's engagement with ease using Dailymotion's advanced analytics capabilities. You can gain valuable insights, such as views, watch time, and more, from Dailymotion analytics to optimize your internal communication strategies and improve audience engagement. Export these insights to consolidate within your existing analytics tools for a comprehensive understanding of your video content's impact.
Seamless integration with support
By selecting the Dailymotion video solution, you gain assistance at every step of the technical integration process. You have the option to receive guidance from identifying your needs to implementing the technical solution, or you can enable your developers to consult our API and SDK documentation, facilitating automated video integration within your technological ecosystem.
Security with controlled access
Dailymotion's video solution prioritizes security, offering advanced access control features to protect your content. With our platform, you can customize user roles for specific teams and easily manage video access and distribution. Our solution ensures that your content remains secure and confidential, giving you peace of mind as you share your videos internally.
Effortless video management
Dailymotion's video solution is designed to be user-friendly, ensuring that anyone in your internal organization can easily manage videos without any technical knowledge. Our turnkey solution comes equipped with tools that enable you to master video management efortlessly. Our platform's intuitive interface allows you to seamlessly upload, edit, and delete videos, simplifying the management process.
Large-scale content sharing
Dailymotion's video solution simplifies the process of distributing and hosting heavy content, allowing you to seamlessly share videos of any size with your target audience. Our platform's advanced distribution capabilities ensure that your videos are delivered smoothly, enabling your business to effectively communicate with employees and stakeholders without any interruptions or delays.