Top 15 Live Streaming Encoders (Hardware & Software) in 2023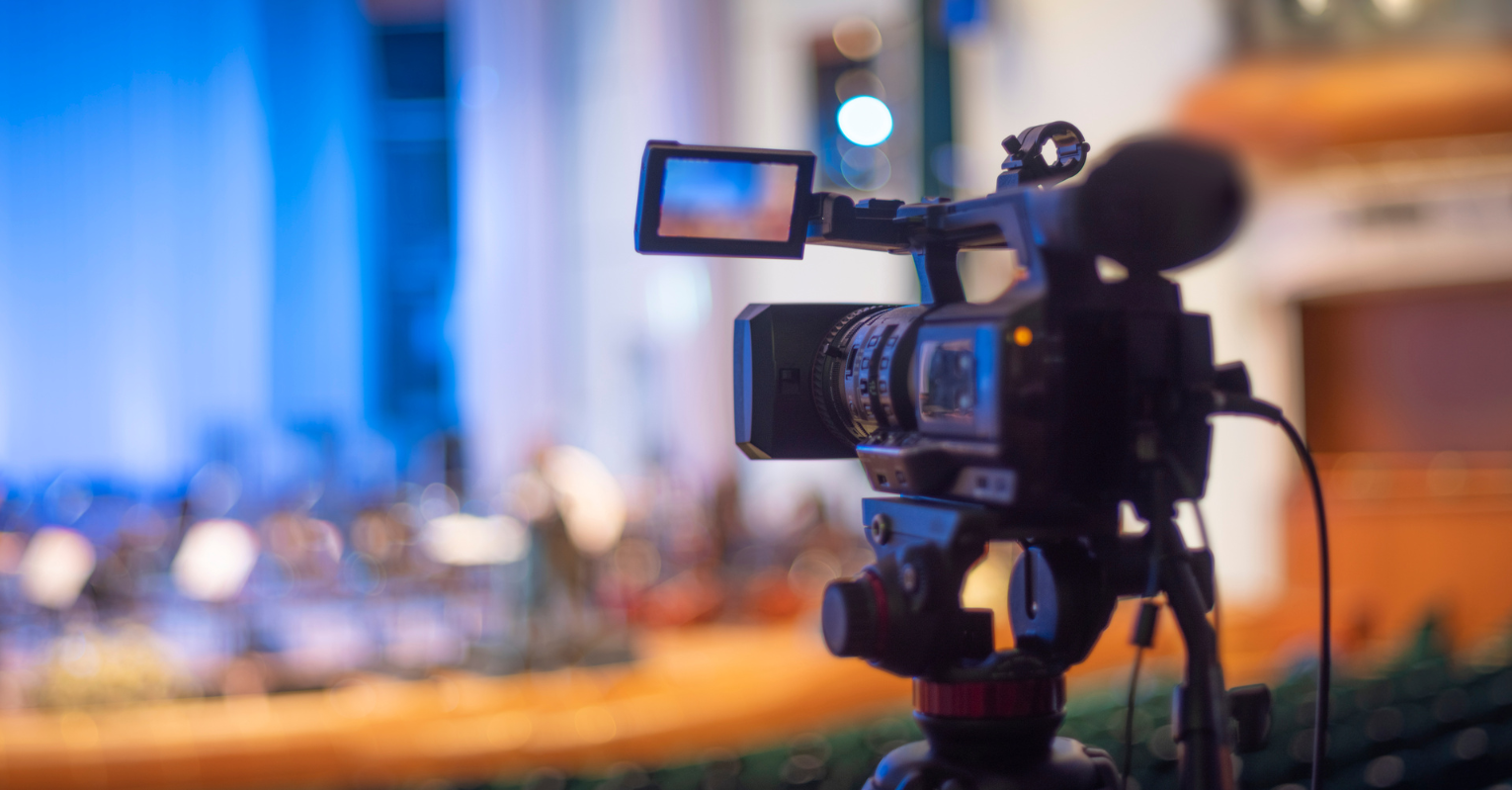 Behind a great live stream are many moving parts. From the captivating content to the enthusiastic host, every element plays a crucial role in delivering an unforgettable experience for all viewers. However, at the heart of it lies the often-overlooked hero – the live streaming encoder.  
Without live streaming encoders, livestreams cannot take place, since these encoders turn your raw audios and videos into a digital, stream-able format. If you can choose a good live streaming encoder, it will be able to handle high volumes of data in real-time, minimize bandwidth usage, yet maintain a consistent streaming quality without interruptions or crashes. As a result, your content will be optimized, able to reach audiences worldwide and contribute to your streaming goals.  
However, exploring live streaming encoders may not be an easy feat, given the vast number of options and the complex technicalities involved with video encoding. Fear no more – through this article, we will be your guide to a better understanding of the basics of live streaming encoders, and to the best encoders that will breathe life into your livestreams, captivate your audience, and leave a lasting impression.  
What is a Live Streaming Encoder? 
A live streaming encoder is a hardware or software that converts a live video into a digital format for streaming over the internet. This process involves constantly compressing and packaging the video data (e.g., SDI, HDMI, of VHS tapes), often to reduce file size while maintaining acceptable quality, encoding into a streaming format, and sending to streaming platforms for distribution.  
Given the time-sensitive nature and unique requirements of live streaming, live streaming encoders are designed to enable real-time encoding, support of streaming protocols (such as Real-Time Messaging Protocol or HTTP Live Streaming), bandwidth optimization (such as through adaptive bitrate streaming), and integration with streaming platforms like Dailymotion, YouTube Live, or Twitch. 
Differences Between… 
Before deep-diving into the world of live streaming encoders, we would like to bring your attention to the differences between some of the key concepts in this realm. Understanding such differences will help you pinpoint exactly what you need for your livestream setup.  
Encoding vs. Transcoding 
Encoding and transcoding are video terms that get used interchangeably, mainly because many live streaming encoders have multiple functions, including transcoding. However, they actually have different meanings and purposes. 
As briefly mentioned above, encoding is the process of converting raw videos into a specific digital format through file compression, to prepare the videos for storage, transmission, or playback. Meanwhile, transcoding means converting videos from one digital format to another, to adapt video content to different platforms, devices, and streaming requirements.  
Encoding is compulsory for live streaming, but transcoding is not always necessary (e.g., transcoding may not be needed for private streaming). Encoding is also more resource-intensive than transcoding, as this process involves raw data, which requires significant computational power and time. Both will affect video quality, but if encoded and transcoded to the right extent, the changes will not be perceptible to the human eye.   
Encoder vs. Codec 
Encoder and codec are two different components involved in the video compression process, specifically: 
An encoder is the software or hardware that performs the video compression process, converting raw video and audio data into a compressed format. More examples of encoders, specifically live streaming encoders, can be found below. 
A codec, on the other hand, is the algorithm used by the encoder to achieve compression and decompression of the video and audio data. Some examples of codecs include video codecs like H.264, H.265 (also known as HEVC), VP9, and AV1, and audio codecs like AAC, MP3, and Opus. 
Software Encoders vs. Hardware Encoders 
The next comparison is between software encoders and hardware encoders. Even though they share the same encoding function, they differ in the following regards:  
Function: Software encoders can perform more than just encoding, while hardware encoders have the sole purpose of encoding.  
Processing: Software encoders rely on a computer's Central Processing Unit (CPU) to perform encoding tasks. Meanwhile, hardware encoders have specialized hardware that can perform encoding tasks with less strain on the CPU. 
Performance: With their single purpose and specialized encoding hardware, hardware encoders perform more effectively than software encoders. 
Usage: Software encoders typically offer more flexibility and customization options. Users can adjust encoding settings, bitrate, and other parameters according to their specific needs. Hardware encoders, on the other hand, are designed for simplicity and ease of use.  
Cost: Software encoders are less expensive than hardware encoders. Some software encoders are even free.  
How to Choose a Suitable Live Streaming Encoder 
There is no one-size-fits-all live streaming encoder for every streamer, given differences in streaming needs and objectives. As a result, while it is important to pick from one of the most reputable live streaming encoders in the market, streamers should also consider the following factors to choose the most suitable option(s) for their streaming setup: 
Basics of your streams: Think about key elements of your streams – including but not limited to your streaming goals, audience (demographics and scale), and technical capacities. These elements will inform you of the features that you require from your livestream setup, including the live streaming encoders.  
Budget: Unfortunately, money is a limited resource. Consider how much of an initial investment that you can make given your needs, as well as return on investment, if applicable. To play it safe, you can try out free live streaming encoders before deciding which one to purchase.  
Encoding capabilities: Consider the capabilities of the live streaming encoder, such as video resolutions, bitrates, and codecs. Ensure that the encoder can handle the video quality you desire and supports the necessary encoding formats. 
Software or Hardware: Decide whether you would like a software or hardware encoder, based on our comparison above and further resources.  
Compatibility: Ensure that the live streaming encoder you choose is compatible with the streaming platform you plan to use. Additionally, if you're opting for a software encoder, make sure that it works with your computer's operating system. 
After going through the list of key factors to consider in a live streaming encoder, let's take a look at some of the most popular and reputable options in the next section.   
Comparing 15 Best Live Streaming Encoders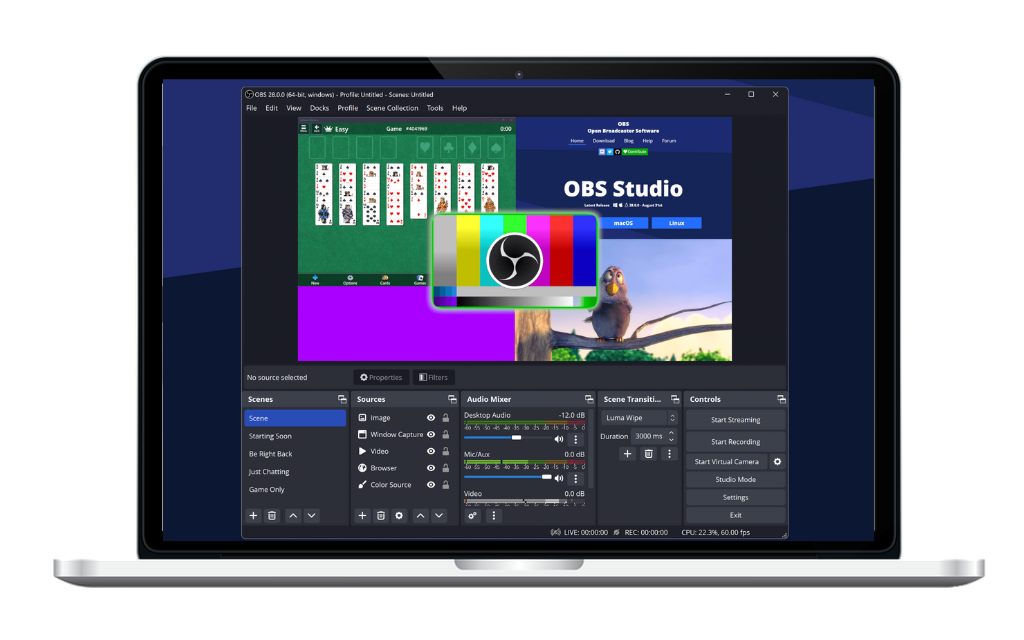 1. OBS Studio – Software Encoder 
OBS Studio is an excellent entry-level software live streaming encoder. It's budget-friendly, easy to use, and open-source (i.e., customizable if you know what you're doing). OBS uses the best open-source video encoding library available, x264, to encode video and can be configured to stream to Dailymotion. 
Key features 
x264 encoding 
H.264, AV1, ProRes codec compatibility 
Open-source 
Real-time A/V capture and mixing 
Unlimited scenes with custom transitions 
Intuitive audio mixer with VST plugin support 
Streamlined settings panel 
Modular 'Dock' UI 
Hotkey assignments 
8-scene multiview monitoring 
Supports all popular streaming platforms 
Pricing 
OBS Studio is free.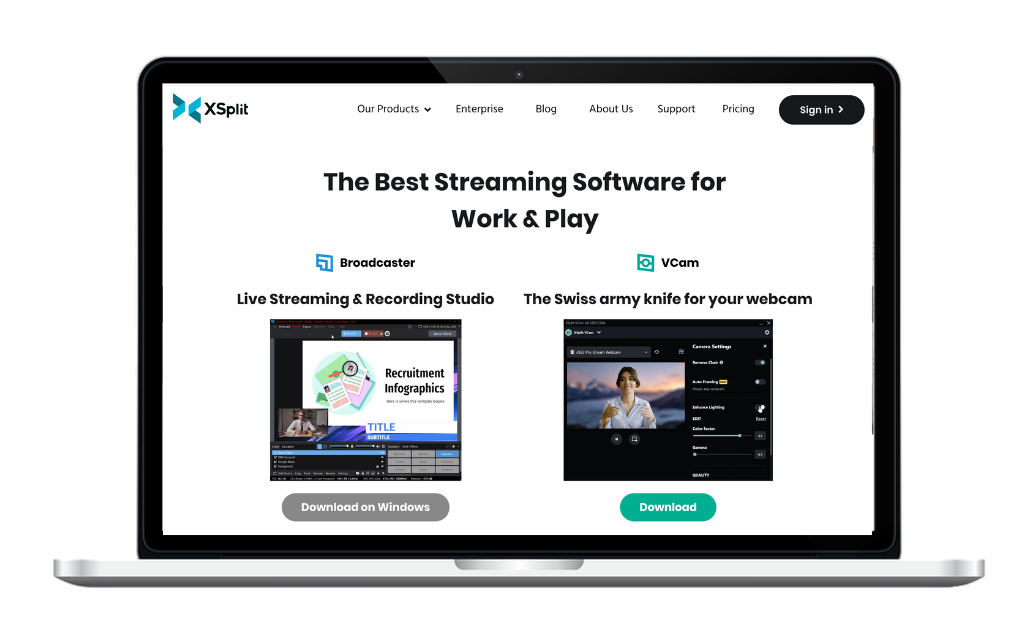 XSplit Broadcaster is an audio/video mixing application that allows anyone to create professional quality live broadcasts and video recordings, using a simple and intuitive interface that's easy to master. It offers NVIDIA Encoder (NVENC) on Graphics Processing Unit (GPU) to fully enhance streaming performance while freeing up CPU. 
Key features 
Multi-streaming, custom transitions, NVIDIA encoding 
NVENC H.264 codec compatibility  
Simultaneous streaming and recording 
Multiple camera sources 
Layout Wizard for scenes 
Drag-and-drop customization 
Skype, Zoom integration 
In-Game HUD 
Customization via API 
Pricing 
XSplit Broadcaster has two plans, free and premium. Premium plans have three rates of US$15 (one month), US$60 (12 months) and US$200 (Lifetime)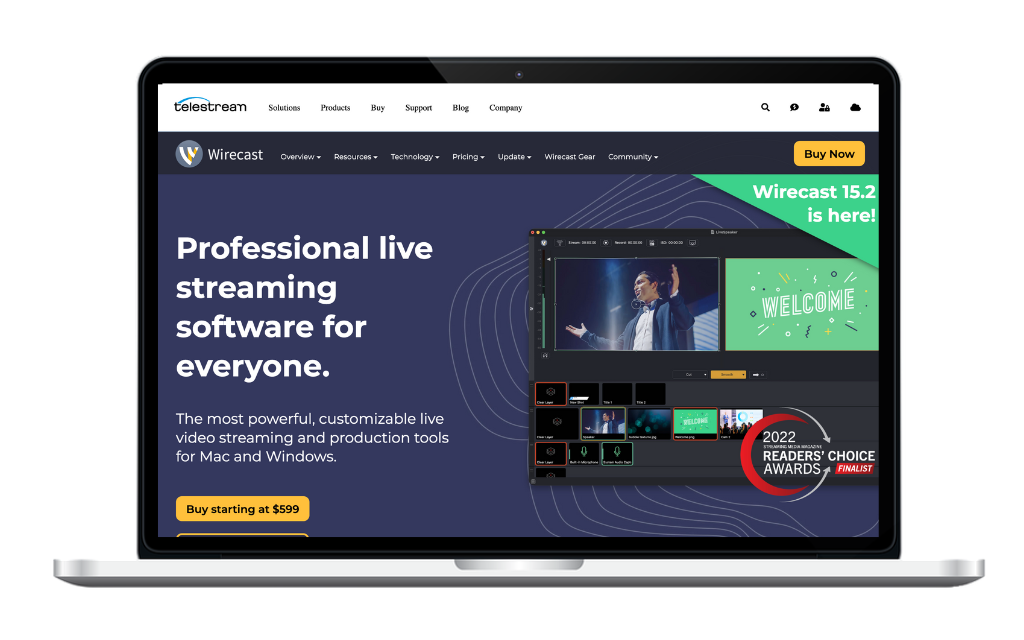 3. Wirecast – Softwaer Encoder 
Wirecast is a popular live video streaming production software developed by Telestream for both Mac and Windows. It allows users to capture, produce, and stream live video content, making it suitable for Dailymotion live streaming, Facebook live streaming, and more. For live audiences, it allows users to bring in remote guests, and display curated social media comments live on-screen during broadcasts. Regarding its encoding capacity, Wirecast uses x264 to live encode your stream at high quality with lower bitrates.  
Key features 
x264 encoding 
Compatibility with standard codecs and major OS 
Unlimited live inputs support (USB, HDMI, IP) 
Professional production features (layer-based compositing, chroma key) 
Multistreaming with platform presets and ISO recording 
Engagement tools (comment overlays, live viewer counts) 
Automated production (shot templates, hotkeys) 
Pricing 
Wirecast has two pricing plans: Wirecast Studio at US$599 and Wirecast Pro at US$799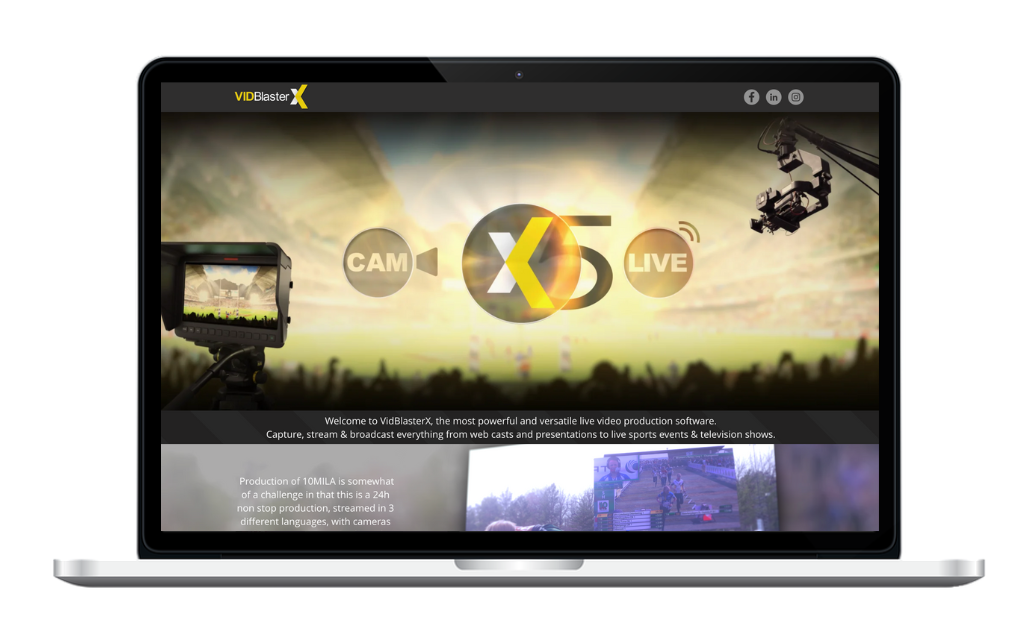 VidBlasterX is a versatile and powerful ultra-low latency cascading vision mixer and video router with built-in scalers, time base correctors, frame synchronizers, IP video encoders and decoders, video players, recorders, keyers, effects and much more. It is compatible with H.264 video codec.  
Key features 
Compatibility with H.264 video codec 
Multi-camera streaming 
Local and remote streaming 
Customizability 
Compatibility with Windows  
Pricing 
VidBlaster X comes in three editions and is subscription based. 
VidBlaster X Home: US$/EUR 9/year, support 7 modules and community support 
VidBlaster X Studio: US$/EUR 99/year, support 25 modules and community support 
VidBlaster X Broadcast: US$/EUR 999/year, support 100 modules, community support and priority support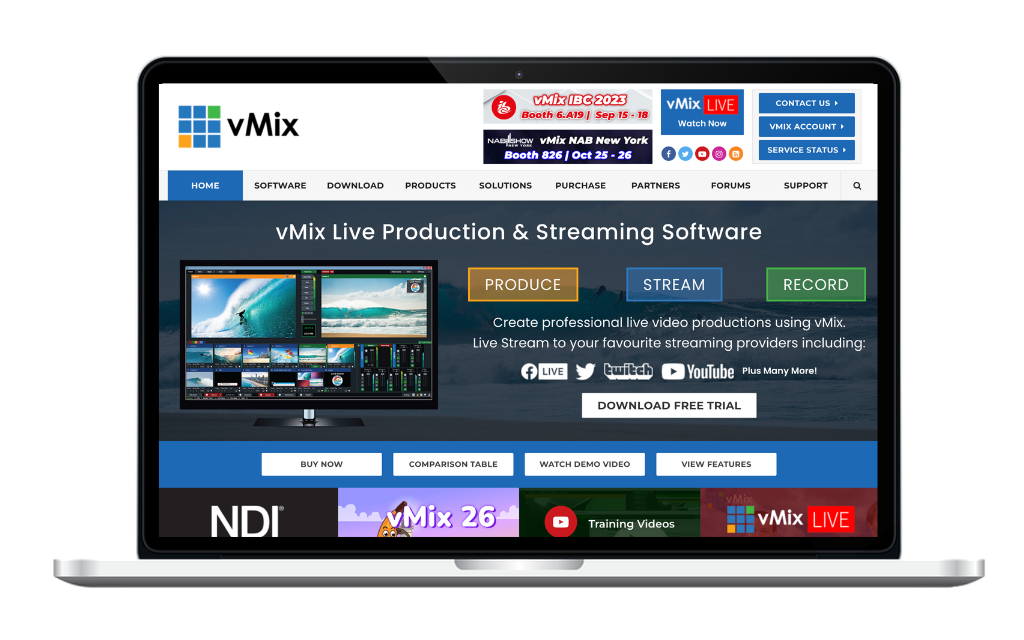 5. vMix – Software Encoder 
vMix is live streaming and production software that allows multiple cameras, videos, NDI sources, remote guests using vMix Call, images, audio, web streams, PowerPoint, titles, virtual sets, chroma key, and much more to your production. Users are also able to display, record and live stream their production all at the same time. This software-based video mixer also supports H.264 encoding and can be used for different platforms like Dailymotion streaming. 
Key features 
Compatibility with H.264 and H.265 video codecs 
Compatibility with Windows 
Multiple inputs available 
SD, HD, 4K video sources for live video productions. 
Live interview up to 8 guests  
Slow-motion instant replay for up to 8 cameras for sports streaming 
Allowing users to construct custom PCs for their specific production needs. 
Multi-streaming  
Integrated with social media platforms for live engagement. 
Pricing 
vMix has two licenses: subscription and lifetime. 
Subscription license: US$50/month.  
Lifetime license:  Basic HD: US$60, HD: US$350, 4K: US$700, Pro: US$1200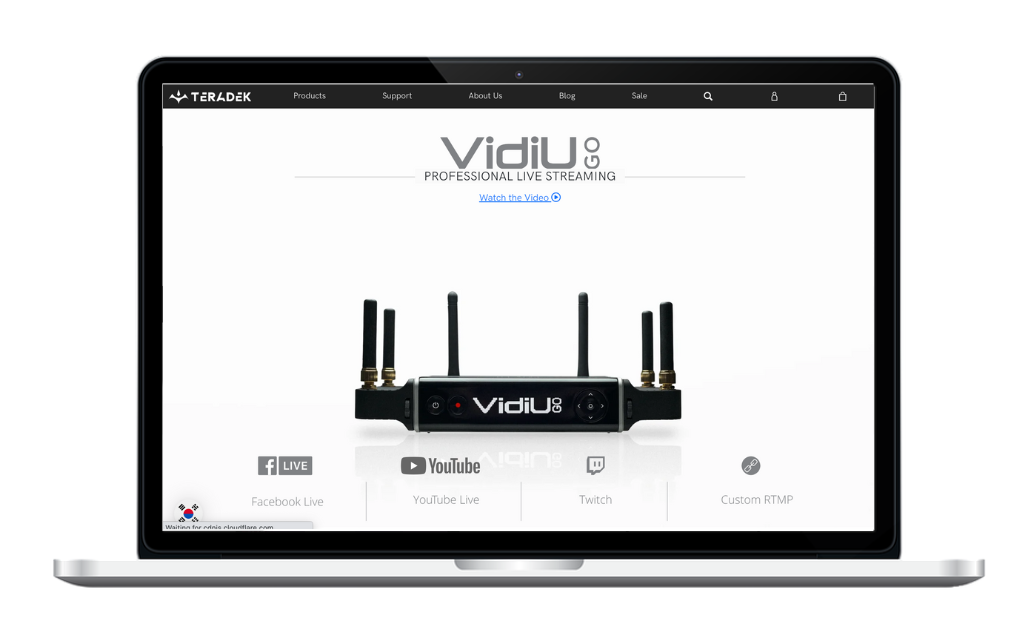 Teradek offers a range of hardware live streaming encoders, which are trusted by big brands like Netflix and NASA. Teradek's hardware encoders are light and small, so they are great for on-the-go streaming.  
Key features 
Teradek's features will depend on each encoder, but generally speaking, users will get:  
Compatibility with H.264 and H.265 video codecs 
SDI and HDMI video input 
Low-latency streaming 
4K UHD encoding 
Cloud storage 
Compatibility with Windows and Mac 
Instant live streaming with simplified setup 
HEVC compression for efficient bandwidth usage 
Stream over bonded networks for stability 
Broadcast quality modems for 4G LTE connectivity 
Pricing 
Teradek's hardware encoders are at different price points, from a few hundred US dollars to several thousand dollars. For some products, customers will have to contact their sales team for a quote.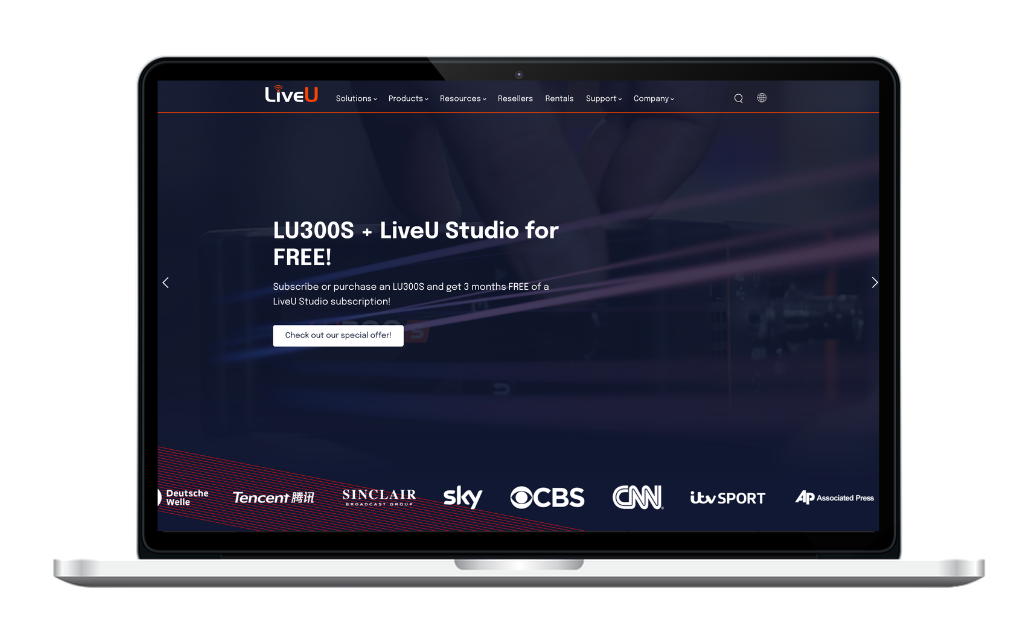 7. LiveU – Hardware Encoder 
The LiveU is a family of hardware live streaming encoders that are well-suited for encoding and producing remote streams. This 4K live streaming encoder is globally renowned and has contributed to massive streams, including presidential events, World Cups, Olympics, Super Bowls, and more.  
Key features 
LiveU's features will depend on each encoder, but generally speaking, users will get:  
Compatibility with H.264 and/or H.265 video codecs 
SDI and HDMI video input 
One-touch, wireless live streaming  
Multiple streaming destinations 
4G/5G streaming 
Compatibility with Windows and Mac 
Pricing 
LiveU Solo hardware encoders are priced different based on users' location, but they start at US$995 or EUR 829. Check out the actual price from reseller partners here.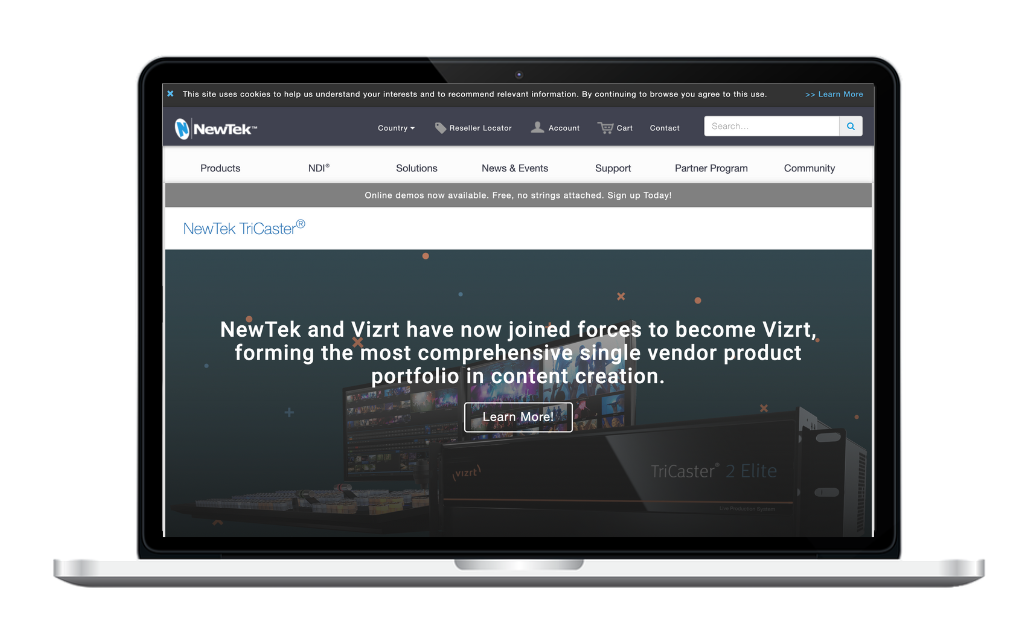 8. TriCaster – Hardware Encoder 
TriCaster is a comprehensive solution that combines video switching, encoding, graphics, and virtual sets into an all-in-one device for live streaming, broadcasting, and production. Similar to Teradek, TriCaster also offers several models of hardware live streaming encoders, for every type of production, from portable to complete production equipment.  
Key features 
Here is what TriCaster encoders generally offer:  
H.264 codec compatibility 
4K/HD encoders 
Multichannel streaming 
Low-latency encoding 
Windows and Mac compatibility 
Live streaming and simultaneous recording 
RTSP/RTMP protocol and multi-CDN compliance 
Adaptive bitrate adjustment 
Pre-defined encoding parameters 
Integration tools available 
Pricing 
Customers can find the prices for TriCaster hardware live streaming encoders based on their locations here.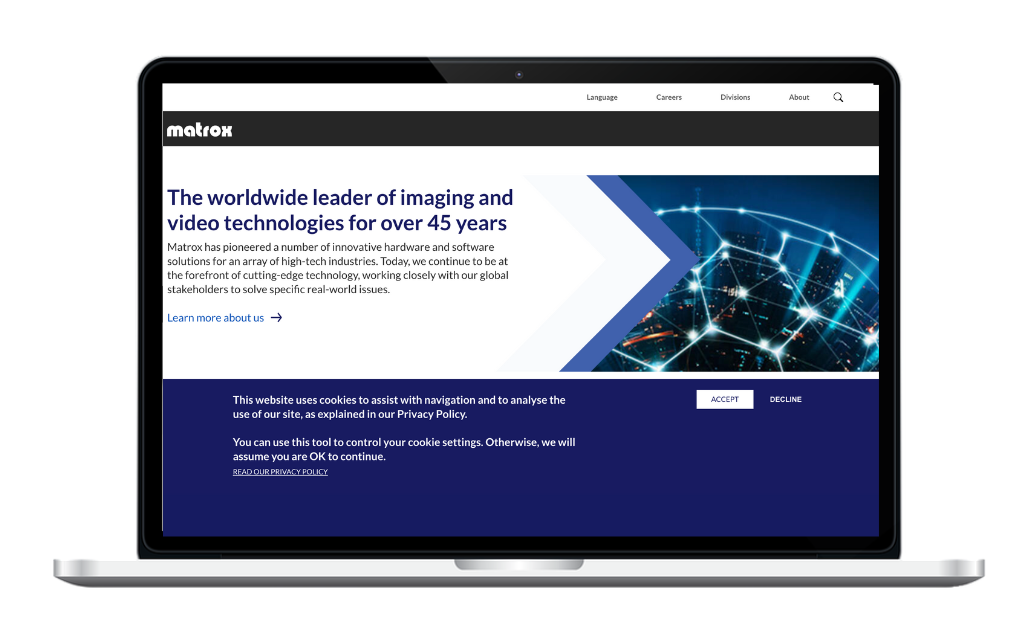 9. Matrox – Hardware Encoder 
Matrox offers a complete range of multi-channel 4K and HD encoders designed for a variety of live streaming, recording, over the top (OTT), and on-demand applications. Built on open standards such as H.264, the encoders are used by corporations, broadcasters, government, military and educational institutions worldwide. 
Key features 
At the moment, Matrox has five series of encoders, namely: Maevex 6100 Series, Maevex 6020 Remote Recorder, Maevex 5100 Series, Monarch Edge Series, and Monarch Series. The features are contingent on the series and models, but overall users will get: 
H.264 codec compatibility 
4K/HD encoders 
Multichannel streaming 
Low-latency encoding 
Windows and Mac compatibility 
Live streaming and simultaneous recording 
RTSP/RTMP and multi-CDN compliance 
Adaptive bitrate adjustment 
Pre-defined encoding parameters 
Integration tools available 
Pricing 
Customers should contact their sales team for a quote. There might also be distributors and dealers available, but not in all locations.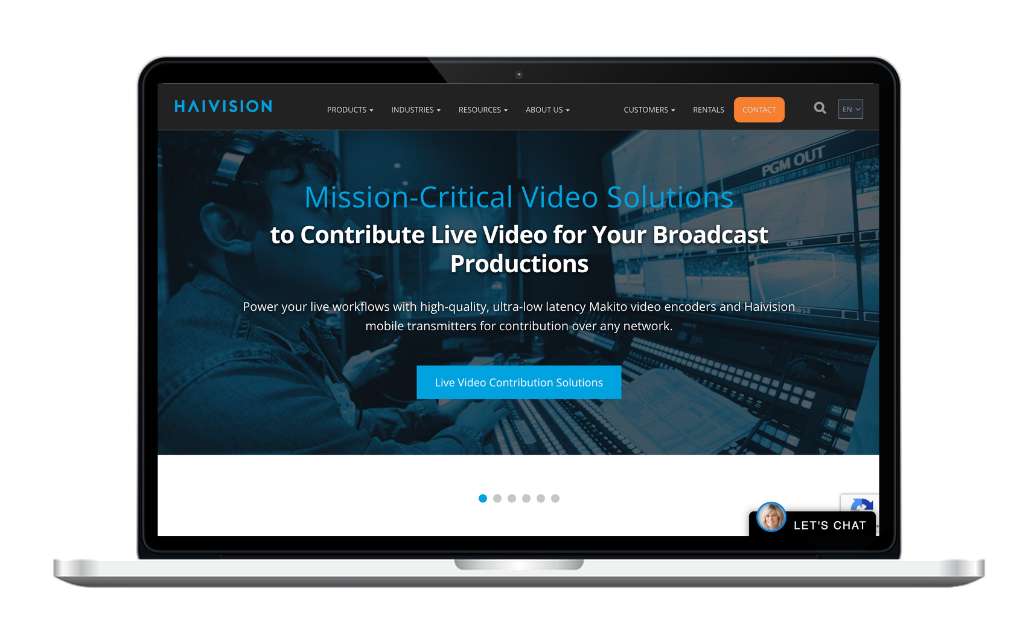 10. Haivision – Hardware Encoder 
Haivision is a company that specializes in video streaming and encoding solutions. They provide hardware encoders that support a variety of codecs, including H.264, H.265 (HEVC), and SRT (Secure Reliable Transport) protocol for low-latency and secure streaming. 
Key features 
Haivision has 7 hardware encoders, namely Makito X4, Makito X H.264, Haivision Rack, Makito X1 Rugged Video Encoder, Makito FX, Makito X HEVC, and Makito X4 Rugged Video Encoder. For all products, customers will get: 
H.264/H.265 codec compatibility 
4K/HD encoders 
Low-latency streaming 
Multiple input options 
Streaming protocols support 
High-quality transport for bandwidth-constrained applications 
Up to 2 inputs and 4 encoding engines per blade 
Adaptive bitrate adjustment 
High Profile H.264 encoding 
SRT and FEC for secure media distribution 
Web-based real-time monitoring and management 
Pricing 
Customers can contact Haivision's sales team for a demo and a quote.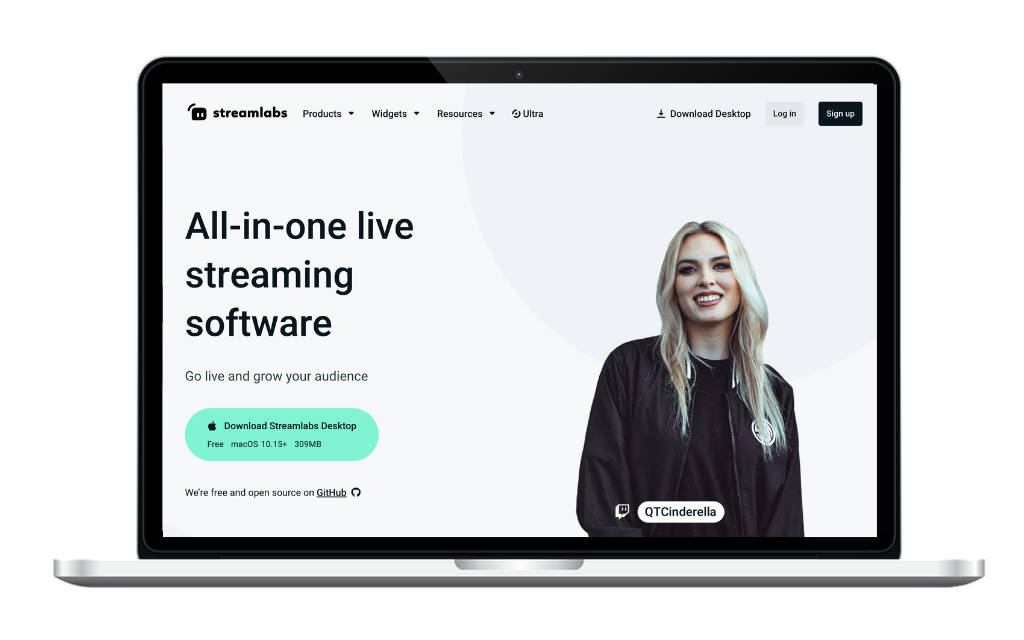 Streamlabs OBS is a modified version of the original OBS Studio. It's tailored specifically for streamers, integrating features that make streaming easier and more interactive, and can be configured for various platforms including Dailymotion streaming. 
Key Features
Integrated alerts for engagement 
Customizable overlays and themes 
Chat and event widgets 
Built-in donation system 
Chatbot for moderation and engagement 
In-app merch store 
Mobile streaming via app 
Multi-platform streaming 
Pricing 
Streamlabs offers a free tier that includes live streaming software, widgets, overlay themes, alerts, moderation tools, and more. The Streamlabs Ultra tier, priced at $19/month or $149/year, adds features like customization of tip pages, access to app add-ons, live stream sponsorship opportunities, a thumbnail and panel maker for YouTube and Twitch, and priority support.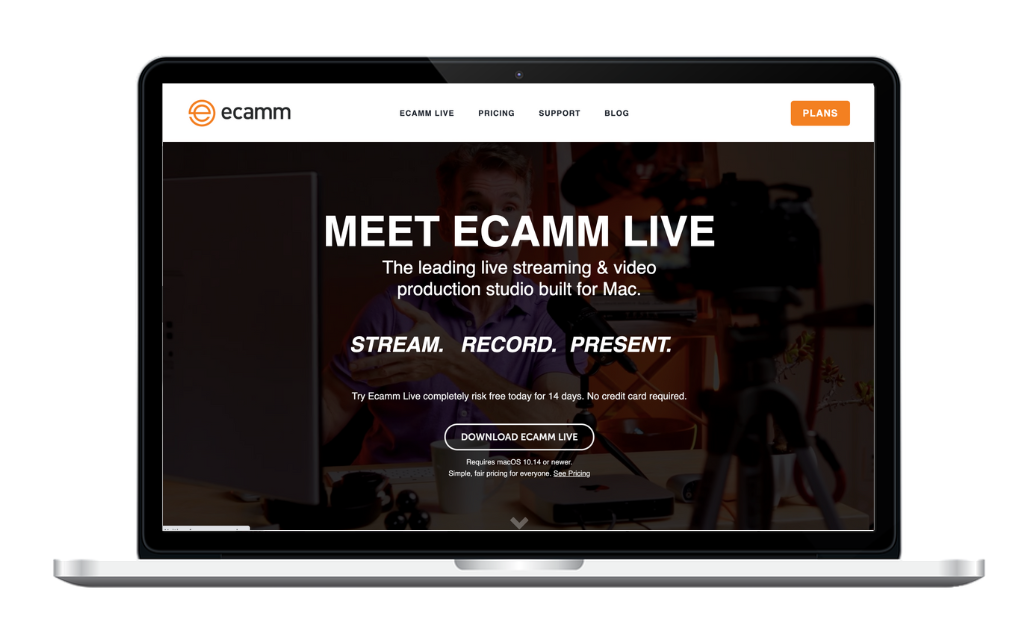 12. Ecamm Live – Software Encoder 
Ecamm Live is the leading live streaming and video production studio specifically designed for Mac. It offers a comprehensive suite of tools for streaming, recording, podcasting, and presenting. 
Key Features
Multi-functional video tool: Supports cameras, screen sharing, and podcasting. 
Quick scene composition and switching 
Green screen and camera effects 
Branding with logos, graphics, and animations 
Audience engagement tools 
Up to 10 guests with high-quality A/V 
Various capture modes, including 4K HDMI 
Advanced multi-streaming 
Pricing 
Free trial for 14 days 
Standard: US$16/mo. Perfect for those who are new to live video, ready to create custom-branded live content 
Pro: US$32/mo. Packed with pro-level feature to take your broadcaste to the next level.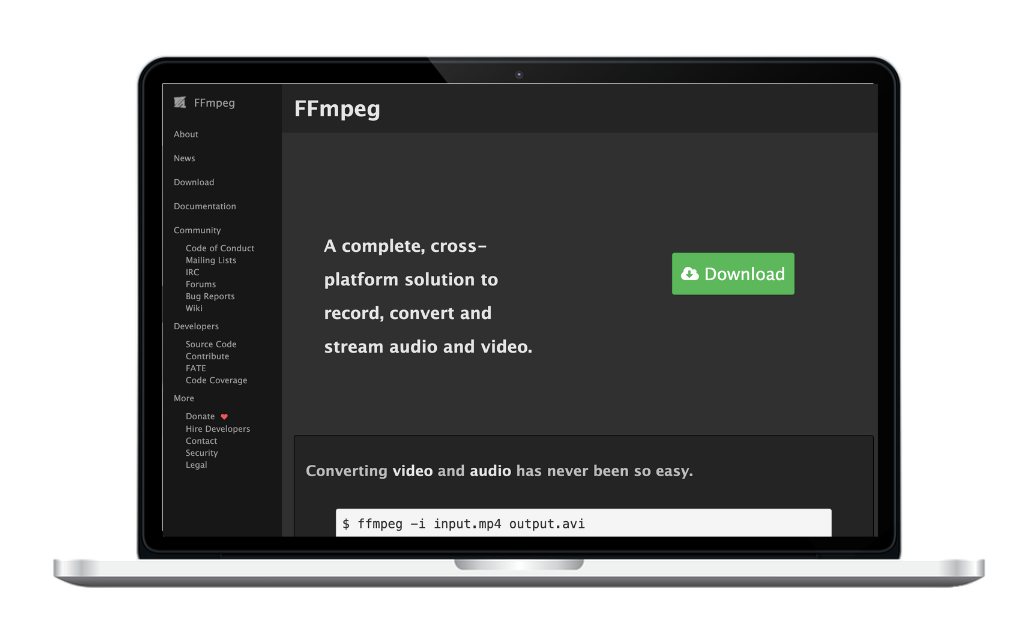 13. FFmpeg – Software Encoder 
FFmpeg is a comprehensive multimedia framework that can handle tasks such as recording, converting, and streaming audio and video. It is a cross-platform solution and is known for its versatility, especially in the command-line context. This powerful multimedia framework can be used to encode in H.264 and stream to different platforms such as Dailymotion, though it might require a bit more technical know-how. 
Key Features
Cross-platform compatibility 
Versatile command-line tool for multimedia tasks 
Vulkan-powered hardware acceleration 
Broad codec support 
Audio and video filters 
Regular updates with new features 
Supports major formats including AV1 in MP4 
Advanced features such as motion interpolation 
Extensions and plugins available 
Pricing 
FFmpeg is a free and open-source software project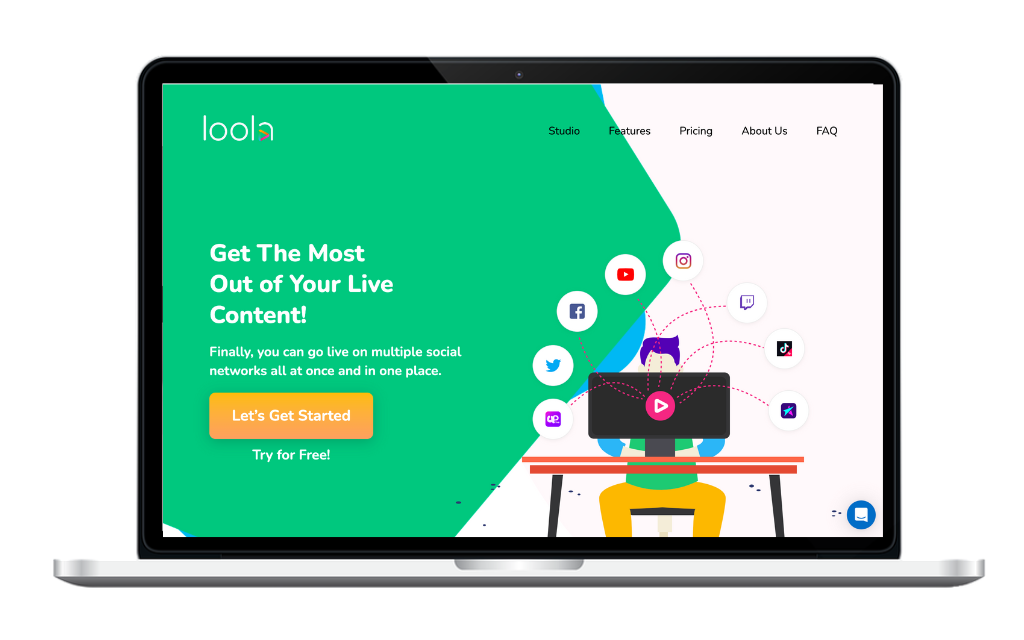 14. Loola.tv – Software Encoder  
Loola.tv is a cloud-based live streaming platform that caters to both beginners and professionals. It offers a user-friendly interface and integrates seamlessly with various media platforms like Dailymotion, making it easier for users to broadcast their content to a wider audience.  
Key Features
Cloud-based operation 
Multi-platform streaming 
Interactive engagement tools 
Streaming analytics 
Custom branding options 
Scheduled streaming 
Collaborative tools for live streams 
Pricing 
Loola.tv offer free usage for 3 hours per month. It has US$19/mo of Premium plan and US$39/mo of Pro plan.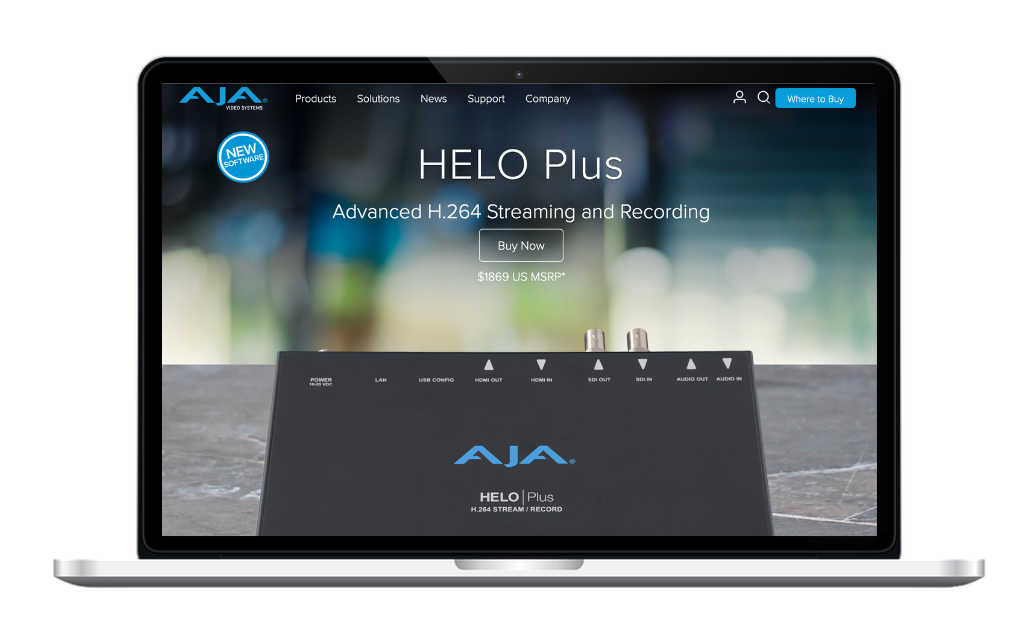 The AJA HELO Plus is a compact, advanced H.264 streaming and recording stand-alone appliance. It offers both SDI and HDMI I/O, allowing users to stream up to 1080p60 to a Content Delivery Network while simultaneously recording. The device can stream to two separate destinations and record to various storage mediums, including SD card, USB storage, and NFS or SMB network storage. The HELO Plus also provides Picture-In-Picture and graphics functionality in hardware, making presentations more compelling. 
Key Features
Compact, stand-alone design 
Versatile I/O with SDI and HDMI 
High-definition streaming in H.264/MPEG-4 
Dual destination streaming 
4-channel audio for dual-language workflows 
PiP and graphics from multiple sources 
SRT support for stable streaming 
Dual encoders for varied output settings 
Pricing 
Tips for optimizing live streaming quality with a live streaming encoder 
Optimize internet connection 
Use a wired connection instead of Wi-Fi for a more stable and reliable internet connection. 
Check your internet speed and ensure it meets the recommended requirements to avoid buffering or lag during live streaming. 
Minimize network congestion by closing unnecessary applications or browser tabs that may be using up bandwidth. 
Adjust video settings 
Set the appropriate resolution and frame rate for your streaming platform. This ensures that your viewers can enjoy a smooth and high-quality video experience without any lag or buffering issues.
Choose the optimal bitrate to balance quality and bandwidth limitations, allowing you to deliver excellent video quality while minimizing the strain on your internet connection.
Configure audio settings to achieve clear sound without distortion, ensuring that your audience can hear every word clearly and immerse themselves in the live streaming content.
Use adaptive streaming 
Make sure your live streaming encoder supports HLS (HTTP Live Streaming) or DASH (Dynamic Adaptive Streaming over HTTP).
Enable multiple stream renditions at different bitrates to allow smooth switching between quality levels. 
Monitor and analyze stream performance 
By utilizing analytics tools or services, you can gain valuable insights into audience engagement and device compatibility.
Don't forget to tweak encoding parameters based on real-time feedback from monitoring systems for continuous improvement in stream quality. 
Conclusion 
When it comes to live streaming, having the right live streaming encoder is crucial for the streams to happen, and for a seamless and high-quality broadcasting experience. Additionally, with the increasing popularity of live streaming platforms and the growing demand for real-time video content, choosing a suitable live streaming encoder becomes even more essential for streamers of any sizes with any purposes.   
Throughout this article, we have explored the basics of video encoding and gone through various live streaming encoders and their features. It is evident that there is no one-size-fits-all solution, as different encoders cater to different streaming goals, needs, and available budgets. However, knowing about the process of encoding, as well as some of the best live streaming encoders in the market, would help you navigate your streaming journey more or less easily than before. 
If you are still pondering about your streaming strategies, including selecting suitable live streaming encoders for your needs, don't hesitate contacting us at Dailymotion! By talking with us, you will not only be introduced to a comprehensive video solution that supports all kinds of live streaming encoders, but also receive business and technical support throughout your live streaming plan.  
FAQs 
What is an encoder for live streaming?  
A live streaming encoder is a hardware or software that converts the audio and video signals from a source, such as a camera or microphone, into a digital format that can be transmitted over the internet. 
Is OBS a streaming encoder? 
OBS is a free and open-source app for live streaming, which provides real-time capture, scene composition, recording, encoding, and broadcasting, so one can say that OBS itself is a live streaming encoder. However, to be more accurate, OBS is a software that can use different video encoders, such as x264.  
Which encoder is best for YouTube live streaming?  
YouTube has a list of verified live streaming encoders that can be found here.  
Which streaming encoder is best for OBS?  
OBS already uses the best open source video encoding library available, x264, to encode video. However, users can also try other hardware encoders, such as Quicksync, AMF, and NVENC, to offload encoding load. 
Do I need an encoder to live stream?  
In order to live stream, you will need an encoder to convert your audio and video signals into a streamable format. The encoder ensures that your content is properly encoded and transmitted to your chosen streaming platform. 
What is the cost of encoder for live streaming?  
The cost of an encoder for live streaming can vary depending on your specific needs and requirements. There are hardware encoders that range from a few hundred dollars to several thousand dollars, depending on the features and capabilities. There are also software encoders available at different price points, some of which are free to use.